CNN
 — 

The bodies of two Americans who were killed in an armed kidnapping in Mexico are expected to be returned to the US on Thursday, a source from the Mexico Attorney General's Office tells CNN, as the two survivors who were brought to a US hospital have yet to be released back to their families.
The remains of Shaeed Woodard and Zindell Brown will likely be transported to a funeral home in Brownsville, Texas, according to a US official familiar with the investigation. The repatriation of the remains comes two days after the bodies were discovered alongside their two surviving friends in a house around the Mexican city of Matamoros.
Autopsies of the bodies were completed in Mexico Wednesday morning, an official from the Tamaulipas Prosecutor's Office told CNN, though Mexican authorities have not released their causes of death. A second autopsy will be performed once the remains are in the US, the US official said.
CNN has reached out to the US State Department regarding the repatriation of the remains.
The deceased were part of a group of four friends from South Carolina who had driven into Matamoros on Friday so that one of them, Latavia Washington McGee, could undergo a medical procedure, two family members told CNN. But their trip was violently interrupted when unidentified gunmen began firing upon their van and then loaded the Americans into a vehicle and drove them away, the FBI said.
One of the survivors, Eric Williams, was shot three times in his legs, his wife, Michele Williams, told CNN. When he and McGee were discovered alive on Tuesday, Williams was brought to a hospital in Texas to undergo surgery, she said.
Washington McGee was also brought to the hospital, her mother, Barbara Burgess, told CNN, though Mexican authorities said she was uninjured.
"She watched them die," Burgess said, recounting what Washington McGee told her about the kidnapping. "They were driving through and a van came up and hit them, and that's when they started shooting at the car, shooting inside the van. … She said the others tried to run and they got shot at the same time."
Washington McGee and Brown are also cousins, though they were raised together and were as close as siblings, Burgess said.
"He was a good person and I miss him," Burgess said of Brown. "I loved him. [There's] nothing I wouldn't do for him."
Investigators believe the group was targeted by a Mexican cartel who mistook them for Haitian drug smugglers, a US official familiar with the investigation told CNN on Monday, and the kidnapping has brought renewed attention to efforts by US and Mexican officials to combat organized crime in Mexico.
During a Wednesday news briefing held by Mexican President Andrés Manuel López Obrador, a government-sponsored fact-checking agency claimed reports of the Americans being mistaken for Haitian drug traffickers are false. The president said "adversaries" in Mexico and the US are attempting to make a "scandal" of the case.
CNN has reached out to investigators in the US and Mexico, as well as the fact-checking agency, for comment.
Mexican authorities are still investigating the kidnapping. One person, identified as 24-year-old Jose "N," was detained when the Americans were found Tuesday, according to Tamaulipas Gov. Américo Villarreal, though officials would not confirm whether he is connected to a criminal organization.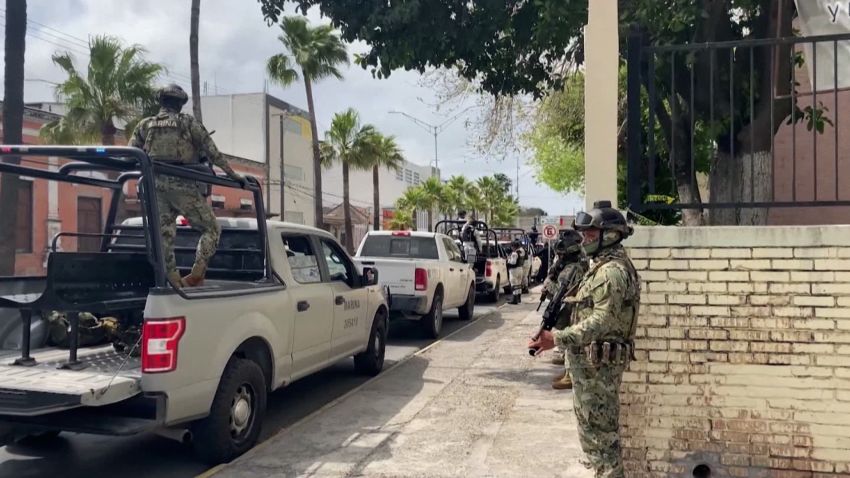 Video shows Americans kidnapped in Mexico being loaded into pickup truck
The kidnapping of the four friends on Friday spurred a days-long investigation by local and federal Mexican officials, who say they were in almost-constant contact with US authorities until the two survivors and the victims' bodies were finally discovered.
The four friends had booked a hotel in Brownsville, Texas, and were planning to drive to a doctor's office in Matamoros on Friday for Washington McGee to undergo a medical procedure, a close friend who did not want to be identified told CNN.
At about 9:18 a.m. Friday, the group crossed into Matamoros, Villarreal said. But on their way to the clinic, the group became lost and were struggling to contact the doctor's office for directions due to a poor phone signal, the close friend said.
Suddenly, another vehicle collided into the group's van and gunmen began shooting at the group, sending some of the friends running, according to Burgess, who recounted her daughter's experience. "They all got shot at the same time," she said.
A video obtained by CNN shows Washington McGee being shoved onto the bed of a white pickup truck by a group of armed men, who then begin dragging at least two other limp bodies into the truck. Burgess, when asked about the video, said her daughter was treated "like trash."
The Americans were then taken from the scene in the vehicle, according to an FBI account of the kidnapping.
Over the next few days, the groups was moved to several different locations to "create confusion and avoid rescue efforts," Villarreal said.
Meanwhile, Mexican investigators were searching for the missing group, sifting through surveillance footage and processing the vehicles and ballistics found at the scene, officials said.
After noticing the Americans' van had North Carolina license plates, Mexican authorities reached out to US officials, who were able to run the plates, according to Tamaulipas Attorney General Irving Barrios Mojica. They were also able to identify the gunmens' truck, he said.
"Several searches" were then initiated across multiple agencies, and the group was ultimately found in a "wooden house" in or near Matamoros on Tuesday morning, Villarreal said.
Though US law enforcement were not involved in the search on the ground, federal and local agencies in Mexico were cooperating in the effort and a joint task force was created to communicate with US officials, Barrios Mojica said.
The fatal kidnapping – and the possibility it was carried out by a cartel – has brought increased attention to ongoing efforts by US and Mexican officials to curb cartel activity that is a primary driver of the fentanyl trade between the countries.
A US delegation traveled to Mexico this week to "discuss our governments' ongoing cooperation in combating illicit fentanyl," a national security council spokesman told CNN Wednesday.
The visit comes as fentanyl – a potent synthetic opioid – fuels a record number of overdose deaths in the US, with Mexico being the "dominant source" of the drug in the US, according to a government report released last year.
The delegation plans to address the kidnapping and discuss a "fundamental strategy to attack the cartels," Department of Homeland Security Secretary Alejandro Mayorkas said Wednesday.
President Joe Biden promised "strong penalties to crack down on fentanyl trafficking" in his State of the Union address last month. His administration has since sanctioned several cartel members and associated groups for their participation in the drug trade.
López Obrador said there was "good cooperation" underway between the two countries on anti-drug efforts, but resisted calls from some Republican lawmakers in the US to designate cartels as terrorist organizations, saying it would infringe on Mexican sovereignty.
"We do not get involved in seeing what the gangs in the United States that distribute fentanyl are doing or how the drug is distributed in the United States," López Obrador said at his daily news conference in Mexico City.
Ongoing talks between the US and Mexico are "working in a coordinated manner with respect to sovereignty," he said.